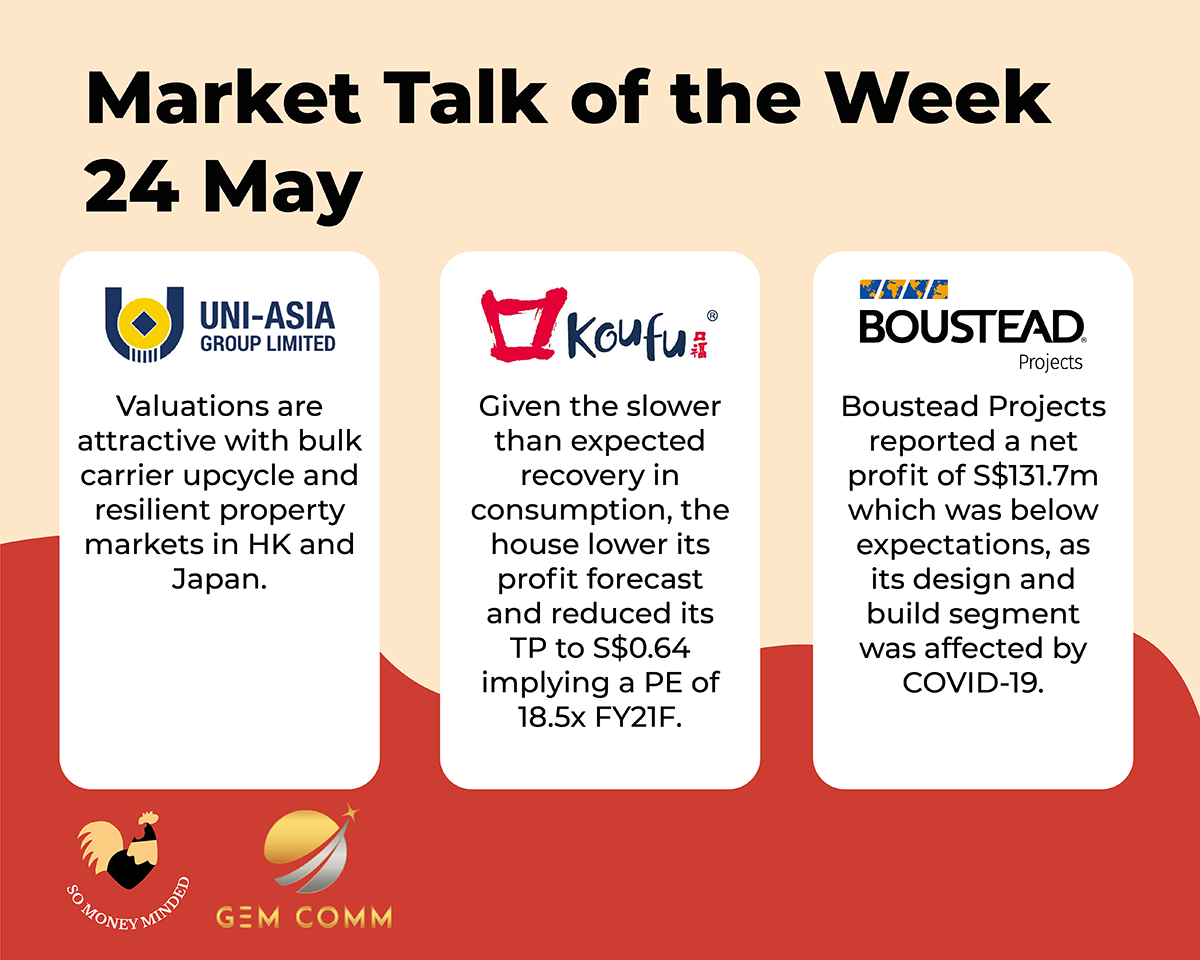 Market talk for the week (24 May)
28 May 2021
What happened in markets this week, and what are analysts talking about?
Uni-Asia
• KGI; Joel Ng: Upgrade to Outperform with TP S$0.91. Valuations are attractive with bulk carrier upcycle and resilient property markets in HK and Japan. The House raises its multiples for shipping division from 0.2x to 0.5x P/B while maintaining 0.5x P/B for its HK and Japan property business. Forecast dividend of 3-3.5 S Cents on 40-48% payout ratio to give an implied dividend yield of 5%.
Koufu
• PhillipCapital; Terrence Chua: Downgrade to neutral with lower TP S$0.64: Given the slower than expected recovery in consumption, the house lower its profit forecast and reduced its TP to S$0.64 implying a PE of 18.5x FY21F. Koufu has seen a fall in footfalls for its food outlets in malls and tertiary institutions as Singapore move into Phase 2 (Heightened Alert). Construction of its integrated facility has also been delayed by COVID-19 measures to 3Q21, where the Group will be occupying 75% of total GFA and leasing out the remaining.
Boustead Projects
Boustead Projects reported a net profit of S$131.7m which was below expectations, as its design and build segment was affected by COVID-19. With the successful unlocking of its value and capital recycling, Boustead Projects has declared a special dividend of 14.5 S cents, with a total FY21 DPS of 15.4 S cents translating to a yield of 13.9%.
•CIMB; Ong Khang Chuen; Add with higher TP S$1.40: Valuations are attractive with net cash of S$0.95/share as of end of FY21, while owning a portfolio of industrial properties worth S$700m that can be potentially injected into property trusts. Raise TP to S$1.40 on 25% discount to RNAV of S$1.86 (post-special dividend payout).
For our more info on markets and access to stock research, pls open a trading account with our preferred broker or subscribe to us. PM @moneyplantt at Telegram or email us at connect@gem-comm.com
Mastering Investor Relations, Redefining Brands