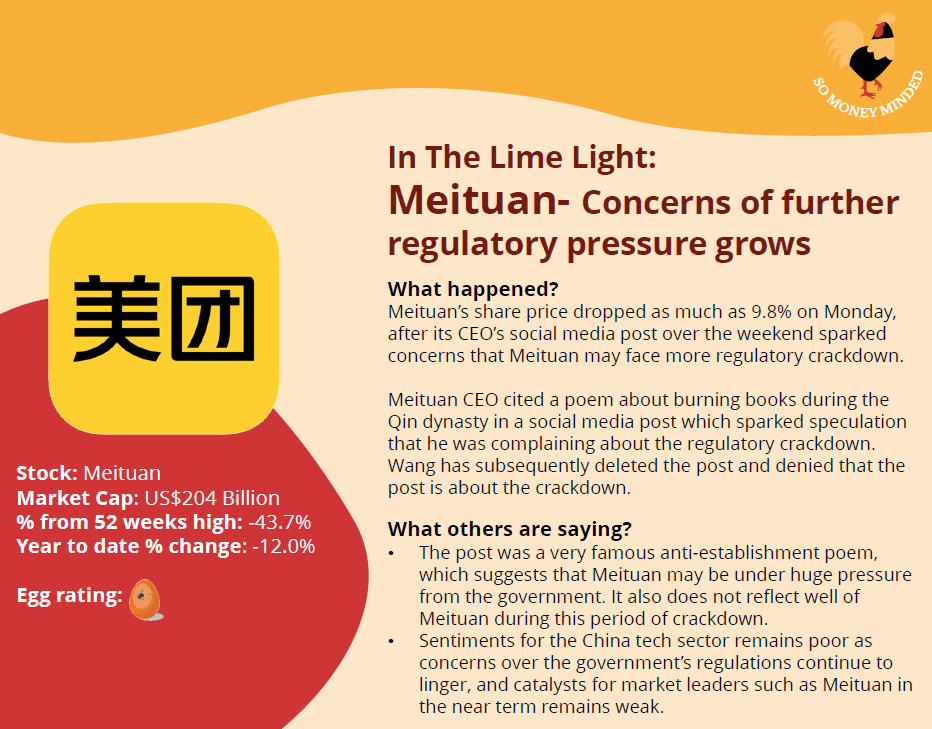 In the Lime Light: Meituan – Concerns of further regulatory pressure grows
10 May 2021
What happened?
Meituan's share price dropped as much as 9.8% on Monday after its CEO's social media post over the weekend sparked concerns that Meituan may face more regulatory crackdown.
Meituan CEO cited a poem about burning books during the Qin dynasty in a social media post which sparked speculation that he was complaining about the regulatory crackdown.

Wang has subsequently deleted the post and denied that the post is about the crackdown.

In his re-post, he clarified that the post was about the Qin dynasty being wary of scholars, but the ultimate downfall of the Qin Dynasty came down to someone who did not was from Liu Bang who did not read any books. This ancient poem reminded him that the most dangerous competitors are usually not the expected ones- likening the case to Alibaba vs JD.com vs Pingduoduo.
However, the damage has already been done as Meituan closed 7% down on Monday, closing below HK$274, its recent support, which may suggest further downside from a technical perspective. Meituan is down more than 40% from its 52 weeks high and 10% year to date.
What others are saying?
The post was a very famous anti-establishment poem, which suggests that Meituan may be under huge pressure from the government. It also does not reflect well of Meituan during this period of a crackdown. Sentiments for the China tech sector remain poor as concerns over the government's regulations continue to linger, and catalysts for market leaders such as Meituan in the near term remain weak.
In terms of valuation, Meituan is attractive as it trades at 7.8x EV/sales- near a 1 year low, after its significant re-rating which started in Mar 2020.
Meituan remains one of the key technology powerhouses, with its dominance in food delivery and online travel booking. However, as price action continues to struggle with ongoing regulatory concerns, are you a bull or a bear for Meituan? Let us know in the comments section below.
Mastering Investor Relations, Redefining Brands